The range of FirstOneTuning silencers is available for most scale models such as 1:5 cars like HARM, FG, SVM, Bergonzoni, RS5 and Lauterbacher, both in Touring cars and F1 versions. The FirstOneTuning silencers can be installed on the car models without any change and are supplied with manifold and silencer in the fitting kit. The catalogue lists also offer special parts using special materials such as titanium and stainless steel. On our web-site you can find the complete range of products and their prices for the public.
The Project


The FirstOneTuning expansion silencers are designed using a cad cam system transforming the data into cones whose volumes are optimised by calculations obtained by the analysis of the engine diagram for which the expansion is required to be develope the engine in a particular way.
All this guarantees the maximum quality of the product which is also thanks to the utilization of laser cutting.
The Test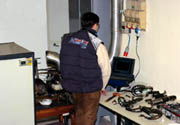 All FirstOneTuning expansions silencers are severly tested both on the test bed and on the track through data collected by electronic systems before bringing them to the market.
Thanks to this, the FirstOneTuning expansions silencers guarantee high standards of performance and reliability.